Visit the Oconto Falls Municipal Utilities Website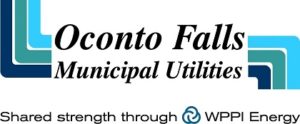 The municipal utilities serving the City of Oconto Falls are operated by the Water and Light Commission, Sewage  Disposal Commission, CATV Commission, and Telecommunications Commission, operating under the trade name of Oconto Falls Municipal Utilities. The utilities are operated by  Commissioners appointed by the Common Council for five year rotating terms.  Day to day activities of the utilities are overseen by a manager hired by the Commissions.
Inquiries relating to utility rates and utility services can be directed to the Utility Business Office, 500 North Chestnut Avenue, P.O. Box 70, Oconto Falls, Wisconsin  54154 or by calling 920-846-4507.  Inquiries relating to utility operations, administration, or technical policies and procedures may be directed to the utility manager at 223 Monroe Street, P.O. Box 70, Oconto Falls, WI  54154-0070 or by calling directly to 920-846-4512.
CONTRACTORS AND HOMEOWNERS BEWARE!
Pursuant to Wisconsin Statutes, (§ 182.0175) any excavation within the municipality of Oconto Falls requires the notification of Digger's Hotline three days in advance of the intended activity. Digger's Hotline can be reached toll free at: 1-800-242-8511. Substantial liability can result from damage to underground utilities by property owners and contractors that fail to notify Digger's Hotline in accordance with statute.
ELECTRIC UTILITY
The Oconto Falls Municipal Electric Utility is operated by the city's Water and Light Commission.  A hometown owned and operated utility, established in 1932, the Commission has provided reliable and economical energy services to meet the needs of our growing community for over half a century.  The Oconto Falls Water and Light Commission is one of 82 municipally operated electric utilities within the state of Wisconsin.  The Commission is a member of the Municipal Electric Utilities of Wisconsin and the American Public Power Association.  Also, the utility is the proud owner (shareholder) of Wisconsin Public Power Incorporated (WPPI), which supplies the electric energy consumed by municipal customers.  The activities of the Commission are regulated by the Public Service Commission of Wisconsin.
WATER UTILITY
Established in 1909, the municipal water utility provides citywide domestic water service. Supplied by the aquifer underlying the community, water is pumped via three wells and is treated for hardness and contaminants.
Over the last decade, the utility has continued a program of redeveloping its wells, replacing well houses and improving distribution lines to ensure uniform water quality and pressure throughout its system.  The activities of the Commission are regulated by the Wisconsin Department of Natural Resources and the Public Service Commission of Wisconsin.
WASTEWATER UTILITY
Wastewater services are provided by the Sewage Disposal Commission via the utility's citywide system of gravity flow sewers and force mains.  Effluent is treated at the City's trickling filter wastewater treatment plant.  The wastewater treatment facility is regulated by the Wisconsin Department of Natural Resources.